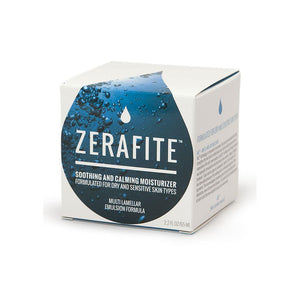 Zerafite
Zerafite Soothing and Calming Moisturizer
Regular price
$55.00
$0.00
•    Replenishes lost skin lipids
•    Reduces inflammation
•    Soothes redness & irritation
MLE Technology is composed of ceramides, fatty acids and cholesterol, which helps strengthen the skin barrier, shield skin from irritants and prevent the evaporation of the skin's own moisture. Zerafite Soothing and Calming Moisturizer was specially formulated for skin that tends to have redness, stinging, flushing or breakouts. Grape seed oil, argan oil, niacinamide, vitamin E and coenzyme Q10 have been added because of their soothing and/or antioxidant properties. This non-comedogenic moisturizer gives the skin the ability to resist dehydration. It is named after the Xerophyte species of plants (cacti) that have adapted to live in dry climates.
Key ingredients: 

Argan oil: Rich in vitamins and essential fatty acids, this oil provides long-lasting hydration in addition to anti-inflammatory benefits. 

Niacinamide: This unique ingredient strengthens the skin's barrier by increasing ceramide and fatty acid levels in the skin and prevents the skin from losing moisture. 
---
More from this collection