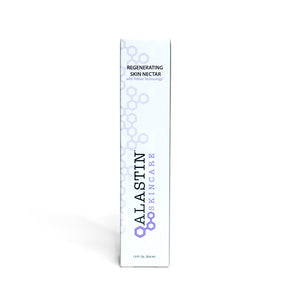 Alastin Skincare
ALASTIN Skincare Regenerating Skin Nectar
Regular price
$210.00
$0.00
Designed to support and strengthen the skin and enhance cosmetic treatment outcomes when used before and after skin-rejuvenating procedures (laser, microneedling, IPL)
Benefits 

Maximizes and enhances procedure results.
Calms post-procedure skin and helps reduce recovery and downtime.
Helps strengthen skin ahead of cosmetic treatments to improve results.
Water-free, preservative-free, and bacteriostatic formulation.
Winner of SHAPE "Best Healing Skin Treatment" 2021 Award.
Works with the skin to clear out damaged elastin and collagen.
Supports the production of new, healthy elastin and collagen.
TREATMENT PAIRING: Lasers | Microneedling | Chemical Peels | Skin Tightening
Size: 1.0 Fl Oz. 29.6 mL
---
More from this collection